Towing and Storage for Alberta 
Double L Towing has a long history of serving communities with full towing, hauling, and road-side assistance services – from light vehicles to heavy equipment. We have grown from a 6-vehicle operation to a 30-unit business that provides quick and efficient roadside assistance and even environmental cleanup.
Double L Towing's vehicles and equipment include:
Service trucks that are capable of boosting, tire changes up to 3/4 ton, unlocks & trailer hauling, plus traffic control/pilot trucks.
4×4 recovery units with twin line; capable of towing, winch recovery, boosts, unlocks, & traffic control.
Medium-duty towing with winch recovery, boosts, unlocks & traffic control.
Single-axle tilt decks on air-ride suspension, capable of hauling up to 14,000 lbs.
Capable of hauling forklifts, skid-steers or antique cars.
A 3-ton 4×4 twin-line wrecker capable of towing 25,000 lbs. & winching 20,000 lbs.
Twin-line wrecker with a 25-ton under lift — air ride suspension — capable of towing 80,000 lbs., including straight trucks, tractors, & fifth wheel trailers with a tow rating of 80,000 lbs. & capable of winching 50,000 lbs.
A 5-ton truck capable of towing 40,000 lbs. & winching 35,000 lbs.
A versatile skid-steer loader with its universal quick-attach, capable of hooking up to just about any skid-steer attachment in the business.
The Landoll® 455-53 hydraulic trailer, is designed to haul heavy loads up to 100,000 pounds. The unit, measuring 53 feet, has a 6.5-degree load angle, 20,000 lb. winch, rides on air suspension, operates with wireless remote, includes hydraulic dock levellers & has an on-board scale.
All environmental issues are dealt with per regulated standards.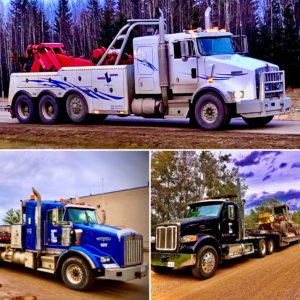 At Double L Towing, customer service is always our priority. Please call us if you need:
Emergency Road Service
Lock-Out Service
Boosting 12-24 Volt
Winching
Fuel Rescue
Tilt Deck Service
4×4 Recovery
RV Towing
Tire Changes Up to 3/4 Ton
Wheel Lifts
Traffic Control & Flagging Service
Motorcycle & Equipment Transport
Towing of Motorhomes, Buses & 5-Tons, Tandem Trucks & Tractors
Winch Tractors
Secure Storage
Ground -Level Pickup & Delivery of Loaded or Empty Containers
Hauling & Delivery of 8' to 53' Storage Containers
Hot Shot Service
Equipment Hauling
Moving of Exotic & Antique Cars
Heavy Duty
Our flagship Landoll 455-53 hydraulic trailers can be loaded with the toughest equipment, including rubber tire equipment. These rugged units are designed for heavy loads, and their reliability and strength ensure the safe and timely transport of our customer's unique payloads.